Home > English Language Schools in Colorado
Learn English in Colorado, USA!
The State of Colorado is a state located in the Rocky Mountain region of the United States of America. Colorado may also be considered to be a part of the Western and Southwestern regions of the United States. Denver is the capital as well as the most populous city of Colorado.

International Partners for Study Abroad offer you different English language courses in Denver, Colorado for college and high school students, executives and professionals, teachers of English and interested adult learners.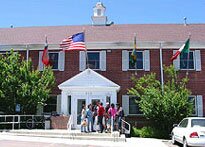 Every year, English Language School in Denver provides highly intensive English language training to hundreds of executives and international students from all over the world.

At our school you will find a dedicated and experienced faculty, the most modern and efficient methodology, the latest technology and a friendly environment in which to learn English as a second language.

Conveniently located on Colorado Blvd. in Denver's largest retail/shopping area, English Language School in Denver is situated on a major bus route, with a stop directly in front of the school. The school is within walking distance of many restaurants, hotels, and plenty of shopping, including the exclusive Cherry Creek area with boutiques and a beautiful shopping mall. Modern classrooms with plenty of natural light create a comfortable atmosphere conducive to learning. Each of our 20 classrooms feature air-conditioning, central heating, modern furniture, large U-shaped desks that facilitate conversation, and DVD players.

English Language School in Denver offers Intensive English language programs for
Executives and professionals (24 and older)
Young adults (18 - 24 years old)
Teens (14 - 18 years old)
Our dynamic method of teaching of English as a Second Language emphasizes conversation, but also includes a variety of course options for students requiring grammar, writing, American Culture, Business English and much more.

English language school in Denver is an official testing center for the Open TOEIC test that is offered nationally one Saturday per month. The school is also an official IELTS testing center.

Click here to review the school's online brochure, choose the English language program that is right for you and apply online.